Kristin Ritchey, Ph.D.
Associate Professor of Psychological Science
"This is the age of cognitive science. Had we been born earlier, we might be exploring new continents. Born later, we might be gallivanting through the stars. But right now, at this time in our history, the vast, tantalizing expanse that begs to be discovered is the human mind."



Contact Info
Department of Psychological Science
North Quad 114
Ball State University
Muncie, IN 47306
Phone: 765-285-1704
Fax: 765-285-1702
Office Hours Fall 2017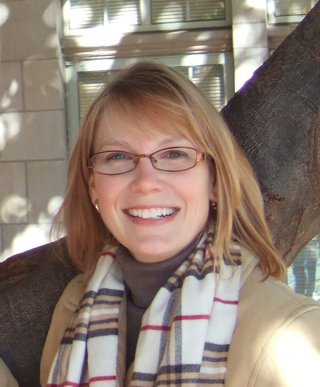 Research Interests
Cognitive Psychology

Adult reading comprehension
Drawing of inferences while reading expository text
Text factors (e.g., graphics, headings) that affect text comprehension and memory

Teaching of Psychology

Best practices for teaching psychology classes
Students' learning from textbooks and other written materials
Selected Papers and Presentations
Miller, R., Rosenthal, L., Brihl, D., Hartmann, Q., & Ritchey, K.(2016). Cracking the senior capstone code. Paper presented at the annual meeting of the Society for the Teaching of Psychology, Decatur, GA.
Ritchey, K.A., & Suryanarayan, A. (2015). Using a deductive reasoning task to facilitate generalization inference construction. Paper presented at the annual meeting of the Society for Text and Discourse, Minneapolis, MN.
Ritchey, K.A., Thorpe, A., Long, K., Bremmer, M., Olsen, K., & Workman, R. (2015). How text genre affects inference construction. Poster presented at the annual meeting of the Midwestern Psychological Association, Chicago, IL.
Ritchey, K. A. (2011). How generalization inferences are constructed in expository text comprehension. Contemporary Educational Psychology, 36, 280-288.
Ritchey, K. A., & Bott, J. P. (2010). Exploring interdisciplinary themes in introductory psychology. Teaching of Psychology, 37, 262-266.
Ritchey, K., Schuster, J., & Allen, J. (2008). How the relationship between text and headings influence readers' memory. Contemporary Educational Psychology, 33, 859-874.
Courses Regularly Taught
PSYS 100 (Introduction to Psychology)
PSYS 396 (Teaching Assistantship Seminar)
PSYS 416 (Cognitive Psychology)
PSYS 492 (Research Seminar)
PSYS 493 (Teaching of Psychology I)
PSYS 494 (Teaching of Psychology II)
PSYS 497 (Supervised Empirical Research)
PSYS 498 (Independent Empirical Research)
PSYS 499 (Supervision of Honors Thesis)
PSYS 618 (Advanced Cognitive Processes)
Advising: Psychology Majors
Advisees are welcome to visit during office hours or make an appointment. Topics we can discuss include career planning, departmental and university opportunities (e.g., joining Psi Chi, scholarships, research and teaching assistantships) and career planning (e.g., applying to graduate school).
Advising: Secondary Education
Students earning their Psychology teaching concentration are also welcome to visit during office hours or to make an appointment. Links to advising resources: